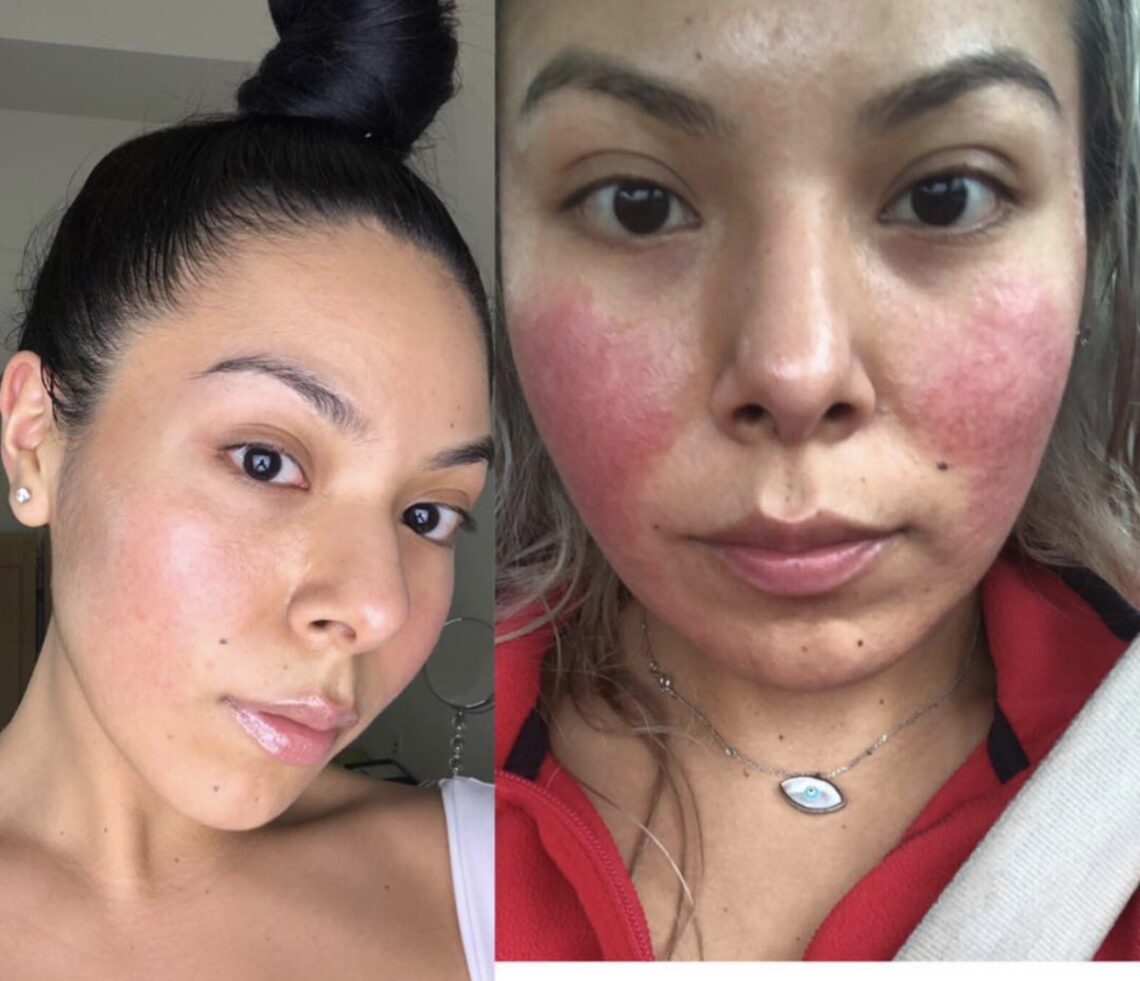 Rosacea Essentials!
September 29, 2020
Hello!
Today I will be discussing Rosacea, if you have been following me on Instagram or Youtube then you probably know my struggle with my skin and finding Rosacea friendly products that are worth your money.
Here is a list of the ones that I highly recommend and why!
FIRST AID BEAUTY ULTRA REPAIR CREAM https://go.magik.ly/ml/x6gj/
This moisturizer has truly made the biggest difference for my skin, it was the only moisturizer that my skin was able to handle during a flare up and if you have had flare ups you know what I am talking about. This moisturizer contains Colloidal Oatmeal which is an FDA designated skin protectant that relieves itch and irritation, shea butter that moisturizers and protects skin barrier, and allantoin which helps calm and soothe skin! This product is also fragrance free which is absolutely amazing for sensitive skin! The ingredients speak for themselves in truly catering sensitive skin
FIRST AID BEAUTY WEIGHTLESS LIQUID MINERAL SUNSCREEN WITH ZINC OXIDE SPF 30 https://go.magik.ly/ml/w5kl/
SUNSCREEN IS ESSENTIAL NO IF ANDS OR BUTTS!!! This sunscreen has been a game changer. If you have rosacea you know how hard it can be to find a sunscreen that will not irritate your skin. This sunscreen is a physical sunscreen which I know that if you hear that you may think omg WHITE CAST! BUT! I have to see it has the slightest tint which was like any other one which usually leaves me looking like a ghost! Because it is physical it contains that zinc oxide which will help filter off the harmful UV rays without irritating the skin in the way a chemical one could. This sunscreen also contains Alteromonas Ferment Filtrate which is a botanical extract that helps protect skin against exposure to the elements and helps regenerate, soothe and retain moisturizer in skin. The last key ingredient this product has is vitamin E which is what helps condition and soothe the skin which is key to why it works so well on my Rosacea skin.
KYLIE SKIN VITAMIN C SERUM https://go.magik.ly/ml/zbem/
The way this serum worked on my skin was a huge shock but so worth it that I have repurchased this 3 times since Kylie Skin has launched. Many of you guys know that there is so much hype around Vitamin C which helps brighten and improve the appearance of dull skin. It also contains Camellia Oleifera Leaf which is GREEN TEA! They are just trying to get a little fancy with us which is why they put down the full fancy name for it! What this does is It reduces redness, inflammation and irritation. It has antibacterial, healing, UV protection properties. It helps to reduce puffy eyes. This specific ingredient is why it has worked so well with my rosace because when I apply it at night it significantly reduces my redness the next morning. You may be wondering why I apply it at night and that is because at night I am not moving or coming in contact with any aggressors, I am just still in one place. I highly recommend this to anyone who is looking to wake up and say WOW I WOKE UP LIKE THIS!!! Beyonce style!
PROCURE ROSACARE MOISTURIZER https://go.magik.ly/ml/zbev/
This is one of my favorite color correcting moisturizers. What I love about this product is that it hydrates while color correcting the redness because of the green tint. It contains Cucumber to cool the skin which is very important for rosacea skin because one of our biggest causes to flare ups is heat. It also contains Licorice extract to fight the causes of rosacea, This product will not make your rosacea go away but it will soothe and conceal redness. It is one of my go to products when I want to conceal it!
Vital Proteins Collagen Powder https://go.magik.ly/ml/x6g7/
Collagen!!! One of my favorite things in the world to help stay youthful! I have been taking this for a full year and gone through countless tubs. And here is why! They help enhance skin hydration, improve skin elasticity and maintain firm skin. What more could you ask for! I noticed the difference after two months of taking this and the one month I skipped out on my skin was extremely upset (never doing that again!) When I take this my skin does not get irritated as easily as it typically would without it, I believe that what you put into your body also plays a huge factor into why our flare ups can get out of hand and this has changed the game for me!
IT COSMETICS OIL FREE BYE BYE FOUNDATION TINTED MOISTURIZER https://go.magik.ly/ml/w7vz/
If you are someone who is looking for a makeup product that will work this one is incredible not only does it do a great job of covering your redness but it also has 50 SPF that does not irritate the skin. The reason it is done so right is because the founder of IT COSMETICS has Rosacea so she understands the struggle of sensitive/ redness first hand.
MAGIK links are affiliated. By purchasing an item from the affiliate link I receive a small commission. However, you are not charged more or less by clicking or purchasing from a MAGIK link.